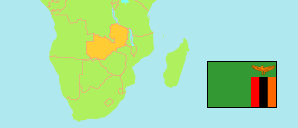 Bbombo
Ward in Zambia
Contents:

Population

The population of Bbombo as well as related information and services (Wikipedia, Google, images).
Source: Central Statistical Office Zambia (web).
Explanation: Districts in the boundaries of 2016 and wards in the the boundaries of 2010; slight deviations from the actual situation are possible. Area figures are computed by using geospatial data.
---
Further information about the population structure:
Gender (C 2010)
Males
2,867
Females
2,920
Age Groups (C 2010)
0-14 years
2,968
15-64 years
2,644
65+ years
175
Age Distribution (C 2010)
0-9 years
2,142
10-19 years
1,511
20-29 years
791
30-39 years
580
40-49 years
328
50-59 years
187
60+ years
248
Urbanization (C 2010)
Rural
5,787
---