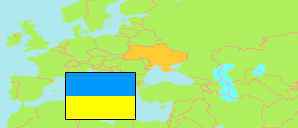 Ternopil'
Oblast in Ukraine
Contents:

Subdivision

The population development in Ternopil' as well as related information and services (Wikipedia, Google, images).
Name
Status
Native
Population
Census
1989-01-21
Population
Census
2001-12-05
Population
Estimate
2022-01-01

Ternopil'

[

Ternopil

]
Oblast

Тернопільська область

1,168,871
1,142,416
1,021,713

Čortkivs'kyj rajon

[

Chortkiv

]
District

Чортківський район

...
379,986
322,293
→

Kremenec'kyj rajon

[

Kremenets

]
District

Кременецький район

...
160,368
140,063
→

Ternopil's'kyj rajon

[

Ternopil

]
District

Тернопільський район

...
602,062
559,357
→
Source: State Statistics Committee of Ukraine (web), pop-stat.mashke.org, Federal State Statistics Service Russia (web).
Explanation: The Autonomous Republic of Crimea and Sevastopol were annexed by Russia in March 2014. This new status is not internationally recognised. Their 2022 figures refer to the results of the Russian census in October 2021.
Parts of Donetsk oblast and of Luhansk oblast are not under control of the central government; their 2022 population was calculated by the Ukrainian statistical office "according to available administrative data". These figures are probably too high.
The Russian invasion of Ukraine since February 2022 has considerably impacts on the number and distribution of the population in Ukraine.
---
Further information about the population structure:
---