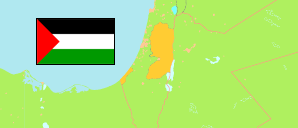 Khan Yunis
Governorate in Palestinian Territories
Contents:

Population

The population development of Khan Yunis as well as related information and services (Wikipedia, Google, images).
Name
Status
Native
Population
Census
1997-12-10
Population
Census
2007-12-01
Population
Census
2017-12-01
Population
Projection
2020-07-01

Khan Yunis

Governorate

خان يونس

200,704
270,979
370,638
401,582
Al-Arāḍī al-Filasṭīniyya [

Palestinian Territories

]

الضفة الغربية وقطاع غزة

2,895,683
3,767,126
4,781,248
5,101,152
Source: Palestinian Central Bureau of Statistics (web).
Explanation: The presented population figures include Arabs in those parts of East Jerusalem which are annexed by Israel. They do not include the Israelian settlers in the West Bank. Area figures and the map presentation include also areas that are not administered by the Palestinian National Authority.
---
Further information about the population structure:
Gender (C 2017)
Males
187,964
Females
182,674
Age Groups (C 2017)
0-14 years
155,963
15-64 years
199,890
65+ years
10,953
Age Distribution (C 2017)
0-9 years
112,012
10-19 years
79,948
20-29 years
67,825
30-39 years
43,344
40-49 years
28,010
50-59 years
18,682
60-69 years
10,634
70-79 years
4,183
80+ years
2,168
Religion (C 2017)
Muslim
366,462
Christian
16
Other religion
42
Refugee Status (C 2017)
Not refugee
150,764
Registered refugee
366,537
Non-registered refugee
17
---