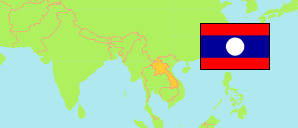 Kham
District in Laos
Contents:

Population

The population development of Kham as well as related information and services (Wikipedia, Google, images).
Name
Status
Native
Population
Census
1995-03-01
Population
Census
2005-03-01
Population
Estimate
2015-07-01
Population
Projection
2020-07-01

Kham

District

ຄຳ

39,397
46,649
48,847
51,087
Laos
Democratic Republic

ປະເທດລາວ

4,581,258
5,621,982
6,671,680
7,231,210
Source: Lao Statistics Bureau (web).
Explanation: The population figures for 2015 and later are based on the results of the 2015 census and are adjusted for underenumeration. Area figures of districts are derived from geospatial data.
---
Further information about the population structure:
Gender (P 2020)
Males
25,515
Females
25,573
Age Groups (P 2020)
0-14 years
17,838
15-64 years
30,698
65+ years
2,552
Age Distribution (P 2020)
0-9 years
12,067
10-19 years
11,233
20-29 years
8,630
30-39 years
6,718
40-49 years
4,783
50-59 years
3,657
60-69 years
2,424
70-79 years
1,028
80+ years
548
Urbanization (C 2015)
Rural with Road Connection
32,600
Rural without Road Connection
6,356
Urban
8,556
---