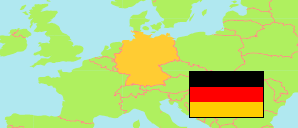 Oberföhring
Quarter in München
Contents:

Population

The population development of Oberföhring as well as related information and services (Wikipedia, Google, images).
Name
Status
Population
Estimate
2000-12-31
Population
Estimate
2005-12-31
Population
Estimate
2010-12-31
Population
Estimate
2015-12-31
Population
Estimate
2019-12-31

Oberföhring

Quarter
8,950
10,177
11,315
13,179
14,956
München [

Munich

]
City
1,247,850
1,288,307
1,382,273
1,521,678
1,560,042
Source: Statistisches Amt München (web).
Explanation: The tabulated population figures report the registered population and not the resident population. Thus, there are discrepancies compared to other pages on this website. Population details are presented by round values.
---
Further information about the population structure:
Gender (E 2019)
Males
7,280
Females
7,670
Age Groups (E 2019)
0-17 years
2,920
18-64 years
9,810
65+ years
2,230
Nationality (E 2019)
Germany
10,980
Other
3,980
---