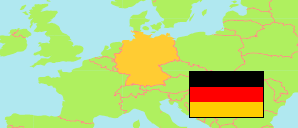 Neumarkt i.d. OPf.
County in Bayern (Germany)
Contents:

Population

The population development of Neumarkt i.d. OPf. as well as related information and services (Wikipedia, Google, images).
Name
Status
Population
Estimate
1990-12-31
Population
Estimate
2001-12-31
Population
Census
2011-05-09
Population
Estimate
2021-12-31

Neumarkt i.d. OPf.

County
111,989
127,312
126,436
136,062
Deutschland [

Germany

]
Federal Republic
79,753,227
82,440,309
80,219,695
83,237,124
Source: Statistisches Bundesamt Deutschland (web), Statistical Offices of the German States (web).
Explanation: States and counties in the boundaries of 31 December 2021.
---
Further information about the population structure:
Gender (E 2021)
Males
68,857
Females
67,205
Age Groups (E 2021)
0-17 years
23,501
18-64 years
85,521
65+ years
27,040
Age Distribution (E 2020)
0-9 years
13,245
10-19 years
12,660
20-29 years
15,838
30-39 years
16,993
40-49 years
17,076
50-59 years
22,951
60-69 years
17,838
70-79 years
10,412
80-89 years
7,119
90+ years
1,093
Nationality (E 2020)
German
122,494
Foreign
12,731
Country of Birth (C 2011)
Germany
114,685
EU 27
4,898
Europe (other)
2,911
Other country
2,347
Unknown
1,595
Religion (C 2011)
Roman Catholic
90,414
Protestant
17,967
Other/No/Unknown
18,055
---