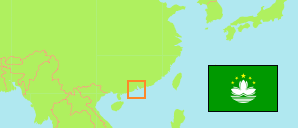 Horta e Costa e Ouvidor Arriaga
Statistical District in Statistical Division
Contents:

Population

The population development of Horta e Costa e Ouvidor Arriaga as well as related information and services (Wikipedia, Google, images).
Source: Direcção dos Serviços de Estatística e Censos, Macau (web).
Explanation: The total population figures include marine population: 1,798 in 2006, 753 in 2011, 1,020 in 2016 and 777 in 2021.
---
Further information about the population structure:
Gender (C 2021)
Males
11,889
Females
14,770
Age Groups (C 2021)
0-14 years
3,189
15-64 years
19,236
65+ years
4,234
Age Distribution (C 2021)
0-9 years
2,166
10-19 years
1,956
20-29 years
3,238
30-39 years
4,867
40-49 years
4,272
50-59 years
3,807
60+ years
6,353
Citizenship (C 2021)
China
22,431
Philippines
1,523
Vietnam
901
Indonesia
851
Thailand
38
Portugal
445
Other
470
Colloquial Language (C 2021)
Cantonese
21,958
Mandarin
967
Other Chinese dialect
499
English
1,143
Filipino
823
Portuguese
126
Other language
660
Ethnic Group (C 2021)
Chinese
22,478
Other Ethnic Group
4,181
---