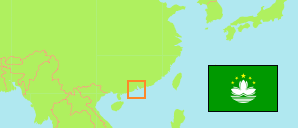 Zona A das Novas Zonas Urbanas
Zone in Statistical Division
Contents:

Subdivision

The population development in Zona A das Novas Zonas Urbanas as well as related information and services (Wikipedia, Google, images).
Source: Direcção dos Serviços de Estatística e Censos, Macau (web).
Explanation: The total population figures include marine population: 1,798 in 2006, 753 in 2011, 1,020 in 2016 and 800 in 2021. The 2021 figures are preliminary.