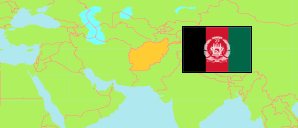 Mārjah
Temporary District in Afghanistan
Contents:

Population

The population of Mārjah as well as related information and services (Wikipedia, Google, images).
Name
Status
Native
Population
Projection
2020-09-21

Mārjah

[

Marja; ← Nād 'Alī

]
Temporary District

مارجه

30,425
Afghānestān [

Afghanistan

]
Islamic Republic

افغانستان

32,890,200
Source: Central Statistics Office Afghanistan (web).
Explanation: The projection is based on the household listing performed from 2003 to 2005; the reliability of the figures is low. Nomades are only included in the total population of Afghanistan. Area figures of districts are computed by using geospatial data.
---
Further information about the population structure:
Gender (P 2020)
Males
15,687
Females
14,738
Urbanization (P 2020)
Rural
30,425
---